Arizona-New Mexico Railroad Maps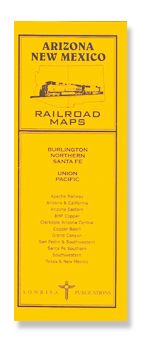 $10.00
Coming Soon
The update has been delayed due to the quarantine. Please watch for release details here or on Facebook.
Handy guide to today's railroads in Washington and Northern Idaho noted for clarity, accuracy and ease of use. Designed for quick reference in the field in a narrow format that fits in your pocket or camera bag.
Each page highlights a separate subdivision and follows the line throughout its length, crossing state boundaries as necessary. Abandoned or unused routes are also shown in relation to current routes as space allows.
Detailed maps arranged by subdivision (Sample)

Class Ones: BNSF Railway • Union Pacific
Shortlines: Apache Railway • Arizona & California • Arizona Eastern • BHP Copper • Clarkdale Arizona Central • Copper Basin • Santa Fe Southern • Southwestern • Texas & New Mexico
Tourist Lines: Grand Canyon

Station index
Mainline radio frequencies
Detector, crossover and tunnel locations
Major highways shown for reference
Centerspread locator map keyed to page numbers of detail maps
Printed on heavy ivory-colored stock for reduced glare and increased durability
2004 edition
38 pages, approx. 4.25 x 11 inches, saddle-stitched
Page Updated:Feb. 15, 2020